Panasonic KX-T824 Business System
Panasonic's latest Business telephone System takes new features and value for money to new levels.
The New KX-T824 picks up where the successful KXT-624 left off, but with a greater capacity of up to eight telephone lines (as opposed to six). It also offers far more built-in features within the self-configuring CCU such as a fully featured voicemail option.
Extra Features include
Five Party Conferencing
SMS routing
Unified Call Distribution
calling Activity reports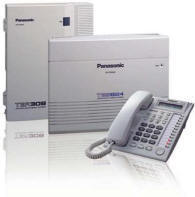 The 824 is compatible with all KX series system telephones.
Panasonic Telephone Systems
Panasonic Phone Systems are well known for their high quality, proven reliability and leading edge technology. Together with MB System Networks' reputation for excellence in customer service and support, you have a powerful combination of technology and experience to deliver your needs.
MB System Networks supply a range of Panasonic phone systems, handsets, voice mail systems and voice PBX products. Whatever your requirements - cost effective access to the digital network, plug and play telecommunications, easy upgradeability - we can supply a phone system solution to suit you.
Further information on each Panasonic Product we supply can be obtained below along with a comparison which compares the capacities of each system.
| | | | |
| --- | --- | --- | --- |
| | | | Download Brochure |
| | | | |
| | | | |
| | | | |
| | | | |
| | | | |
| | | | |
| | | | |
| | | | |