Panasonic KX-TDA600 Business System
The Panasonic KX-TDA600 is the ideal hybrid IP PBX phone system for up to 960 extensions.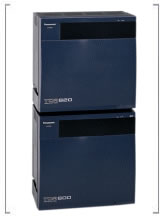 The KX-TDA600 IP-PBX offers the ultimate solution for any large office in the digital age by synthesising voice and data to give a low cost, intelligent communications environment.
As technology changes so does the way businesses communicate with their customers. The Panasonic KX-TDA600, with the capacity for up to 960 extensions (with memory expansion card) provises the ideal solution to handle all your system requirements whatever their size. Similar to the KX-TDA100 & 200, the KX-TDA600 utilisises many of the existing cards allowing for an easy migration path.
Typical Panasonic KX-TDA600 applications include:
Voice mail
Call management software
Cordless telephony (DECT)
Integrated headsets
Computer Telephony Integration (CTI)
Remote branches
Home worker solutions
The new Panasonic KX-TDA600 is a hybrid IP PBX system to fulfil customers requirements today and into the future. It can be configured to meet their present needs and expand as their applications grow or change. Plus, with the KX-TDA600's free slot architecture, you can easily insert expansion cards and access new features as well as expand your capabilities.
Packed with features the KX-TDA 600 is ideal for so many different applications. These include hospitality, call centres, remote users and IP networking. It also allows for greater efficiency, with DECT and IP handsets can provide mobility and flexibility around the office, site or network. The KX-TDA 600 can also integrate with the KXT-VM voice range with integrated email delivery.
Utilising the gateway and extender or IP handsets, homeworkers and remote branches can access the features of your central communication platform.
Built on twenty years experience of developing business communications technology, the top of the range hybrid IP PBX KX-TDA600 works seamlessly with IT, and combines voice and data in one low cost next generation Hybrid solution.
Panasonic KX-TDA600 Technical Specifications
Single Line Telephone - 640
Proprietary Telephone - 640
IP Handsets - 640
Trunks
Trunk Port - 640
Analogue Lines - 640
E1 - 600
BRI (ISDN2) - 640
PRI (ISDN30) - 600
DECT
Cell Stations - 128
DECT Handsets - 512
CCU
Power Consumption (Average) - 295W Per Cabinet
Weight - 16Kg Per Cabinet
System - KXTDA600 System
EM - 320
Dimensions (H x W x D) - 414 x 430 x 270mm
Panasonic KX-TDA600 Configuration
Initial configuration
Configuration guidelines
The KX-TDA600 has a basic configuration of 1 cabinet = 160 extensions & 160 trunks
Options
The Panasonic KX-TDA600 can support up to three expansion shelves
Systems configuration
KX-TDA600 main CCU: 10 slots + 1 Busmaster slot
KX-TDA620 expansion shelf/cabinet: 11 slots + 1 Busmaster slot (no option slots for option cards)
Maximum configuration
Lines (4 cabinets) - 640
Extensions (4 cabinets) - 960 (with memory expansion card)
Line cards - 10
Extension cards - 10
DECT cell stations per cabinet - 32
Interface cards per cabinet - 4
Panasonic KX-TDA600 Main Key Features
ARS/LCR
Automatic ISDN setting (BRI)
Background music (BGM)
Budget management
Busy on Busy
CTI
Call barring
Call logging
Call park with indication
Call pickup groups
CLI distribution (caller ID)
Class of service (COS)
Data line security
Delayed ringing
Direct in lines (DIL)
Direct inward dialling (DID)
Direct inward system access (DISA)
Door phone/door opener
Echo cancellation
Electronic lock
Emergency call
Existing APT/DPT compatibility
Extension groups
External BGM
External sensor/relay control (available from vs 1.1)
Flexible numbering plan (5 digit)
Floating extension
Greeting message
Host PBX access code
Hunting groups
Hurry up transfer
Intercept routing - busy/DND
Intercept routing - no answer
Intercept to trunk
Manager functions
MPR, card/CS software download
Multiple language support
Online diagnostics
Operator functions
PC console/PC phone
PC programming
Paging groups
Remote alarm notification
Remote extension status control through DISA
Remote extension lock
Ring groups
Special carrier access
System memory expansion (available from vs 1.1)
Tenant service
Timed reminder
Time service (day/night/lunch/break)
Trunk groups
Uniform call distribution (UCD)
VIP call
Visual caller ID
| | | | |
| --- | --- | --- | --- |
| | | | Download Brochure |
| | | | |
| | | | |
| | | | |
| | | | |
| | | | |
| | | | |
| | | | |
| | | | |