Panasonic KXTDA Voicemail Systems
Panasonic voice processing systems allow you to record, send and retrieve messages 24 hours a day, 7 days a week world-wide, and help to efficiently handle your telephone system traffic and internal communication needs.
The voice processing systems can improve the efficiency of your business, whether it be in sales, customer service, marketing or human resources.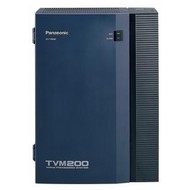 Field sales representatives can call in their sales reports at any time of the day
Customer lines can publicise sales, special promotions and general information
Orders can be placed 24 hours a day Product or service information is available 24 hours a day
Database information can be easily gathered
Calls may be screened prior to connection to an extension without overloading a busy operator
Conversations can be recorded and transcribed later.
(KX-TDA/KX-TD/KX-TA only).

Flexible Voicemail Integration
The systems can interface with most PBX systems that have a single-line telephone port capable of transmitting DTMF signals. The units have an RS-232C interface for PC connection used for programming, showing reports,
usage etc. and system maintenance.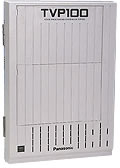 Quick Voicemail set-up
This feature provides a quick way of setting up parameters that must be established with a host PBX. Using a computer terminal connected to the RS-232C port, you can easily edit programming items on the guidance screen.
Voicemail Holiday setting capability
The systems can be programmed to handle calls differently (e.g. auto-attendant vs. voice mail) on official holidays, thereby providing suitable help to callers who call in during off-peak periods or holidays.
Automatic fax transfer
When you receive a fax call the system will automatically send the call to the designated fax extension – this eliminates the need to have a dedicated line for your fax. You can designate a second fax extension to handle overflow traffic from the first one.
Multilingual service
The Voicemail systems can support up to three different languages. Callers
may choose the language of their preference when they call in.
Enhanced integration
When integrating Panasonic voice processing systems to our KX-TDA or KX-TD/KX-TA telephone systems there are enhanced facilities available.
Auto configuration


When setting-up you don't have to type the extension number of each mailbox. The system will automatically forward all extension information to the voice mail, making installation a very simple procedure.

Live call screening


When this mode is activated, you can monitor incoming messages and decide whether or not to take the call.

Two-way recording


This feature allows an extension user to record a conversation in his or her mailbox by simply pressing the two-way record function key. A variation of this feature is 'two-way transfer' which permits the extension user to record a conversation in another person's mailbox.

Intercom paging


This facility allows the voice processing system to make a paging announcement through the proprietary telephones to alert an extension user that there is a call for them.

Caller ID intelligence


The KX-TVP50 and KX-TVP200 offer unique intelligent functionality caller ID Routing will route callers by telephone number to specified extensions or services. Caller ID Call Screening will announce callers by name (max 30) or number. Both require Caller ID from the PBX.

Remote access


The owner of a mailbox can access the system remotely (when out of the office) to record new greetings, listen to messages and divert calls to voicemail (or elsewhere).
| | | | |
| --- | --- | --- | --- |
| | | | Download Brochure |
| | | | |
| | | | |
| | | | |
| | | | |
| | | | |
| | | | |
| | | | |
| | | | |