Panasonic KX-TDA100 Business System
Suppled with a 5 slot CCU, analogue lines, ISDN2e and ISDN30 options can all be added to configure the system as required. This system supports up to 64 extensions.
Built on twenty years' experience of developing business communications technology, the new top-of-the-range hybrid IP PBX from Panasonic is the answer.
The Panasonic KX-TDA100 is the answer for you if your business is to be competitive, it needs an up-to-date business communications system that works seamlessly with IT, and combines voice and data in one low-cost, next-generation, hybrid solution.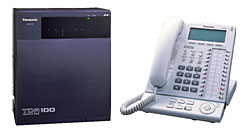 A sophisticated combination of PBX reliability and IP technology, the IP-enabled Panasonic KX-TDA cost-effectively bridges the gap between your telecom requirements today, and your demand for future integrated solutions. Just what you would expect from one of the UK's most successful business communication solutions providers.
Both the KX-TDA100 and 200 phone systems can be installed within a 19" rack and can adapt to meet your needs now and in the future, making it easy to upgrade or expand, providing a more cost-effective solution to suit your company's specific needs.
The Desktop Call Centre
Once upon a time call centres were associated with large telesales companies. These days more and more companies are making the most out of the extra facilities a call centre can offer, whether they be telesales, customer service or any other company department.
The KX-TDA range makes it possible to integrate voice and data, meaning you have available to you all the features and functionality of a full call centre, whatever the size of your business.
(CTI) Computer Telephony Integration
CTI Enables you to have fast easy access to customer files while they are on the telephone, linking your database with your telephone system. CTI enables you to keep track on customer information as your company grows. CTI enables you to create a powerful business tool that can only enhance your customer relationships.
Monitored Performance
Panstat call management software enables you to monitor how your telephone system is being used, whether it be for a single department or for the whole company.
The Panstat call management software is easy to use and offers daily, weekly, monthly and anually reports in an easy to read format.
KX-TDA100 Key Features
IP extension card
IP gateway card (16ch)
Centralised Operator
Caller ID for SLTs
Text messaging to supported DECT and keyphones
LCD menu for voice and mail control
100 personal speed dials
8000 system speed dials
Enhanced hotel features
KX-TDA100 Specifications
Extensions
Extensions 128
Single Line Telephone 64
Proprietary Telephone 128
IP Handsets 64
Trunks
Trunk Port 64ch
Analogue Lines 64
E&M 32
E1 2(60ch)
BRI(ISDN2) 32(64ch)
PRI(ISDN30) 2(60ch)
IP-GW card/ch 2(8ch)
DECT Cell stations 16
Dect handsets 128
CCU Power consumption (average) 156W
Dimensions (H x D x W) 390 x 334 x 270
Weight 12kg
| | | | |
| --- | --- | --- | --- |
| | | | Download Brochure |
| | | | |
| | | | |
| | | | |
| | | | |
| | | | |
| | | | |
| | | | |
| | | | |