Panasonic KX-TDA15 Business System
The KXTDA15 is a next generation product, combining PBX reliability with IP technology offering efficient and flexible communication. It cost effectively bridges the gap between the telecom requirements today, and the demand for future integrated solutions.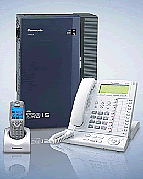 The Panasonic KXTDA15 Phone System completes the range by providing all the functionality of the KX-TDA30, KX-TDA100 and KX-TDA200 in a compact package.
The Panasonic KX-TDA 15 is the perfect business telephone system for smaller branches/shops or even as a small office/home office (SOHO) phone system. This hybrid pbx enabled for Voice over IP (VoIP) is the latest piece in the KXTDA jigsaw and supports up to 8 lines and 20 extensions as well as an IP connection.
It's easy to use and has a range of features that includes that all important VoIP compatibility for maximising the benefits of new and existing network links between offices.
A Complete Communications Solution
Through the bridging of both Telecom and IT networks, this hybrid IP-PBX solution provides a complete communications solution for a variety of applications, helping to improve your productivity, save you money, and integrate your people, your phone system and your IT infrastructure.
Boasting the same impressive features as the KX-TDA100/200, the KX-TDA15 system can adapt to meet your needs now and in the future, making it easy to upgrade or expand, providing a more cost-effective solution to suit your company's specific needs.
Supporting a wide choice of handsets
The new KX-TDA 15 supports a wide choice of handsets, with sophisticated features for advanced communications and ease of use.
Panasonic offer a comprehensive line-up of five stylish key phones, cleverly designed with four tilt positions and available in black or white to suit every user's taste and budget. The KXT7636 offers many features such as, 6 Line, 24 Character Backlit Caller-ID Display, 20-Character Extension ID, Large messaging/Ringing Lamp (Red/Green), a new navigation key, and 24 flexible dual colour keys. Also with a built-in headset jack, customers can easily use headsets or handsets, enabling them to always keep both hands on the keyboard.
Compatible with DECT handsets
Compatible with Panasonic's new enhanced DECT handsets, the up-to-the-minute KX-TCA155 and KX-TCA255 Digital Enhanced Cordless Telephony (DECT) handsets allow users to make and receive both internal and external calls from anywhere on the premises through a range of strategically placed cell stations. As well as providing an excellent opportunity to build brand image through efficient telephone call handling, DECT extensions allow smaller companies to raise their profile and appear larger from the outset.
KXTDA V2.0 Key Feature Enhancements
IP extension card
IP gateway card (16ch)
Centralized operator
Caller ID for SLT's
External relay/sensor
Text messaging to DECT & key phones
LCD menu for voice mail control
100 personal speed dials
8,000 system speed dials
Enhanced hotel features
| | | | |
| --- | --- | --- | --- |
| | | | Download Brochure |
| | | | |
| | | | |
| | | | |
| | | | |
| | | | |
| | | | |
| | | | |
| | | | |