Panasonic KX-TE308 Business System
The Panasonic KX-TEA308 Analogue Phone System is ideal for up to 8 users .
The Panasonic KX-TES308 Telephone System has a wealth of vital features, coming fully configured as three lines and eight extensions. The KXT308 Phone System will accommodate single line devices such as pots (standard analogue phones), cordless etc. as well as proprietary key telephones which utilise system features to a maximum. There is a choice of four telephones for the KXT 308 Phone System, the KXT 7720, KXT 7750, KXT 7730 and top of the range KXT 7735 handset.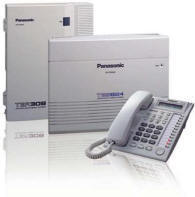 Panasonic KX-TEA308 Phone System Features: Automatic fax transfer, Automatic pause insertion, Call forward, Hold, Call pick-up, Transfer, Call waiting, Conference call, Data line security, Optional DISA facility, Distinctive ringing, Door opener, Last number redial, Intercom, MOH, Call barring, System speed dialling 80 numbers and Pulse/tone switchable.
Panasonic Telephone Systems
Panasonic Phone Systems are well known for their high quality, proven reliability and leading edge technology. Together with MB System Networks' reputation for excellence in customer service and support, you have a powerful combination of technology and experience to deliver your needs.
MB System Networks supply a range of Panasonic phone systems, handsets, voice mail systems and voice PBX products. Whatever your requirements - cost effective access to the digital network, plug and play telecommunications, easy upgradeability - we can supply a phone system solution to suit you.
Further information on each Panasonic Product we supply can be obtained below along with a comparison which compares the capacities of each system.
| | | | |
| --- | --- | --- | --- |
| | | | Download Brochure |
| | | | |
| | | | |
| | | | |
| | | | |
| | | | |
| | | | |
| | | | |
| | | | |